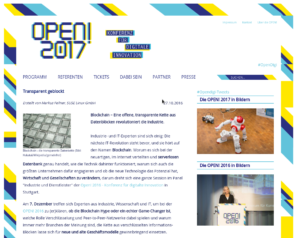 Just found these pictures from hosting a panel on Blockchain at the Open Source Business Alliance's 2016 Open IT! Konferenz,  moderating the OSBAR Award ceremony and the corresponding article on blockchain in enterprise (written for the OSBA/MFG) called "transparently blocked", unfortunately only available in German: Transparent geblockt :
"Am 7. Dezember [2016] treffen sich Experten aus Industrie, Wissenschaft und IT, um bei der OPEN! 2016 zu (er)klären, ob die Blockchain Hype oder ein echter Game-Changer ist, welche Rolle Verschlüsselung und Peer-to-Peer-Netzwerke dabei spielen und warum immer mehr Branchen der Meinung sind, die Kette aus verschlüsselten Informations-Blöcken lasse sich für neue und alte Geschäftsmodelle gewinnbringend einsetzen."
More Pictures from the conference can be found here.