IBM acquires Red Hat | ZDNet as reported by my old friend Steven: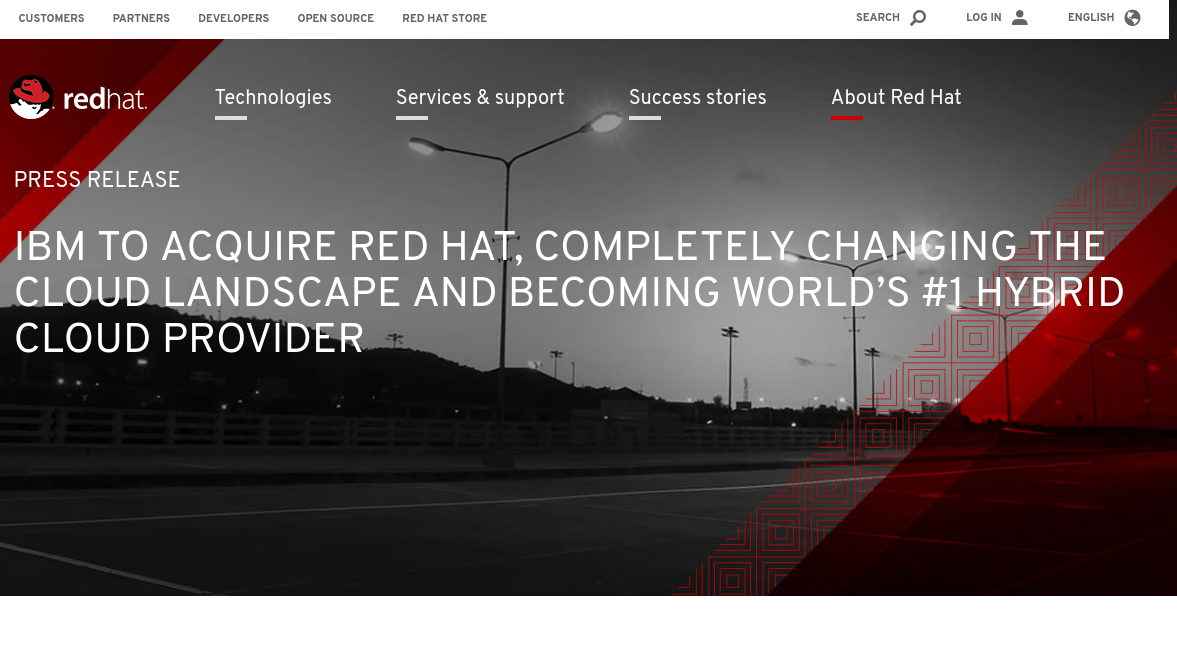 "In an unexpected report, Bloomberg stated IBM is close to announcing that it will be acquiring Red Hat. The news has been confirmed. IBM is acquiring Red Hat for $190.00 per share in cash. This a total enterprise value of approximately $34 billion."
"Rometty continued,"Most companies today are only 20 percent along their cloud journey, renting compute power to cut costs. The next 80 percent is about unlocking real business value and driving growth. This is the next chapter of the cloud. It requires shifting business applications to hybrid cloud, extracting more data and optimizing every part of the business, from supply chains to sales."
… and Jim himself on the Red Hat blog: 
"We have barely scratched the surface of the opportunity that is ahead of us. Open source is the future of enterprise IT. We believe our total addressable market to be $73 billion by 2021. If software is eating the world – and with digital transformation occurring across industries, it truly is – open source is the key ingredient.
Powered by IBM, we can dramatically scale and accelerate what we are doing today. Imagine Red Hat with greater resources to grow into the opportunity ahead of us. Imagine Red Hat with the ability to invest even more and faster to accelerate open source innovation in emerging areas. Imagine Red Hat reaching all corners of the world, with even deeper customer and partner relationships than we have today. Imagine us helping even more customers benefit from the choice and flexibility afforded by hybrid and multi-cloud. Joining forces with IBM offers all of that, years ahead of when we could have achieved it alone. Together we can become the leading hybrid cloud solutions provider."
Here's the full press release by Red Hat …